On July 8th, I attended my first official event as a published author. I was invited as a guest author to Stories in the Park and a Little Free Library, presented by the Haliburton Lions as part of Canada's 150th birthday celebrations at Head Lake Park.
The night before the event, a huge storm swept through Haliburton, knocking out the power to much of the village. Even Tim Horton's was closed in the morning due to the power outage. I set up my book table under still-cloudy skies, thankful for the author's tent the Lions had set up for the readings. There were pillows and blankets scattered on a tarp on the floor of the tent, as well as a classic rocking chair for me, from which I would read my picture book aloud to an audience for the very first time.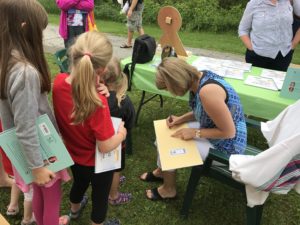 In fact, I hadn't even seen the published book until the day before the event. The experience of sharing my story for the first time with those groups of children, all listening so intently and staring up at me while I read, is something I'll never forget. Equally memorable is signing their copies of my book, donated by the Lions.
A huge thank you to the Haliburton Lions for supporting literacy and for inviting me to be part of such an important initiative!
One Response